Description
Note: There are two options of Omni:bit Kits to choose from:
| | |
| --- | --- |
| | |
| Omni:bit with micro:bit V2 mainboard | Omni:bit Kit ONLY (without micro:bit) |
This Omni-directional mobile smart car is made up of 146 blocks, 4 building block motors, and 4 Omni-directional wheels. With the Super:bit expansion board with powerful motor drive capability, using MakeCode graphical programming, it can easily control its 360° omnidirectional movement by dragging the building blocks. Because it is equipped with a high-quality Mecanum wheel, it can quickly advance in eight different directions: front, back, left, right, upper left, lower left, upper right, and lower right. The ability to avoid obstacles is far greater than other smart cars. In addition, users can also control it through the Android/iOS dual system APP control or micro:bit handle to achieve other functions besides omnidirectional movements, such as colorful lights, music playing, and so on.
Assembling, it is easy with this video:
Features
The building blocks are well integrated with the circuit and designed for microbit controller
Mecanum wheel that can achieve faster360° omnidirectional movement, better avoiding obstacles ability.
Multi-functional and suitable for building Super:bit expansion boards for building block programming robots.
Using BBC micro:bit MakeCode graphical programming, easy to use.
Two control methods: Android/iOS dual system APP, Micro:bit handle (gamepad).
Detailed assembly steps and video will be provided, it only takes you 20 minutes to assemble.
Packing List
Packing list:
Omni:bit with micro:bit V2 mainboard

146 x Lego Technic Building Blocks
4 x Building Block Motor
4 x Mecanum wheel
1 x Super:bit Expansion Board
1 x USB Cable
1 x 18650 Lithium Battery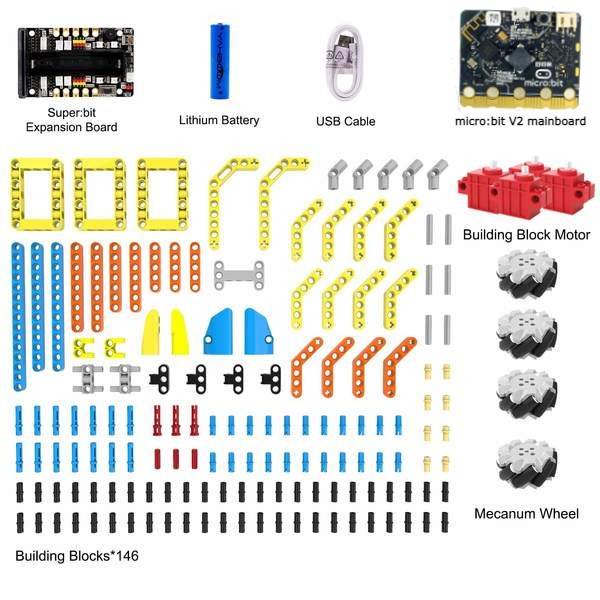 Omni:bit without micro:bit

146 x Lego Technic Building Blocks
4 x Building Block Motor
4 x Mecanum wheel
1 x Super:bit Expansion Board
1 x USB Cable
1 x 18650 Lithium Battery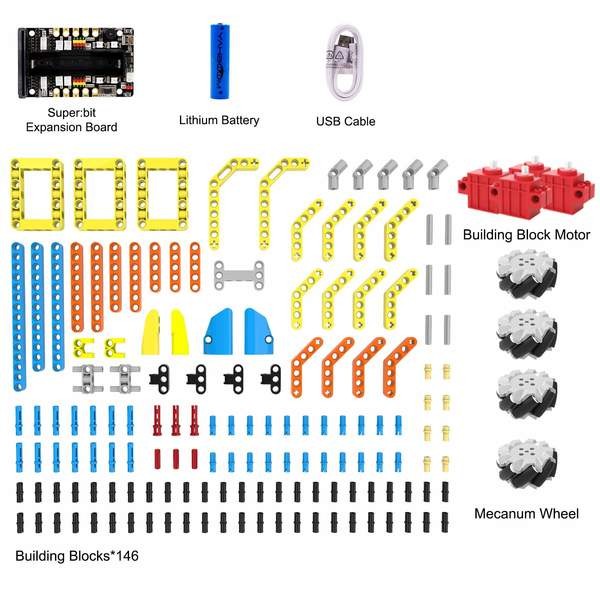 Resources
Omni:bit, all the steps, sample code, Bluetooth App, assembly video