Note: Power cable is not included. However, we are giving the power cable as a FREE GIFT.
---
A206 is a high-performance, interface rich NVIDIA Jetson Nano / Xavier NX/ TX2 NX compatible carrier board, providing HDMI 2.0, Gigabit Ethernet, USB3.0, M.2 key E wifi / BT, M.2 key M, CSI camera, CAN, GPIO, I2C, I2S, pin for fan, and other rich peripheral interfaces. It has the same functional design and size as the carrier board of NVIDIA® Jetson Xavier™ NX Developer Kit.  
Basically, it can work with an NVIDIA Jetson module mentioned above to achieve graphic AI applications. To be more specific, with the NVIDIA Jetson Nan/Xavier NX/TX2 NX module assembled, it could support NVIDIA JetPack, which includes a board support package (BSP), Linux OS, NVIDIA CUDA®, cuDNN, and TensorRT™ software libraries for deep learning, computer vision, GPU computing, multimedia processing, and much more. With its multiple camera connectors, it is suitable for complicated AI graphical applications such as Automated Optical Inspection, In Video Action, Robot control, Drone, etc. Overall, A206 is ideal for software development within the Linux environment. Standard connectors are used to access Jetson Xavier NX features and interfaces, enabling a highly flexible and extensible development platform.
Hardware overview: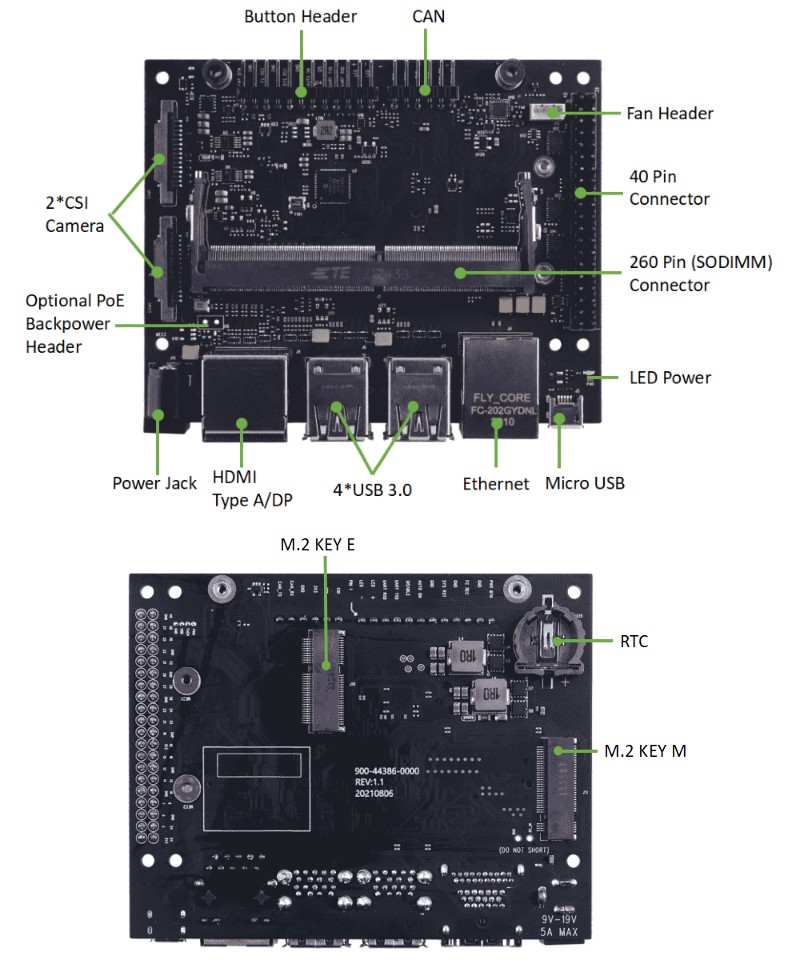 Note: A206 Jetson Modules Carrier Board has nearly the same design as NVIDIA Jetson Xavier NX Developer Kit Carrier Board, open this link and login to get what you need.
Dimension: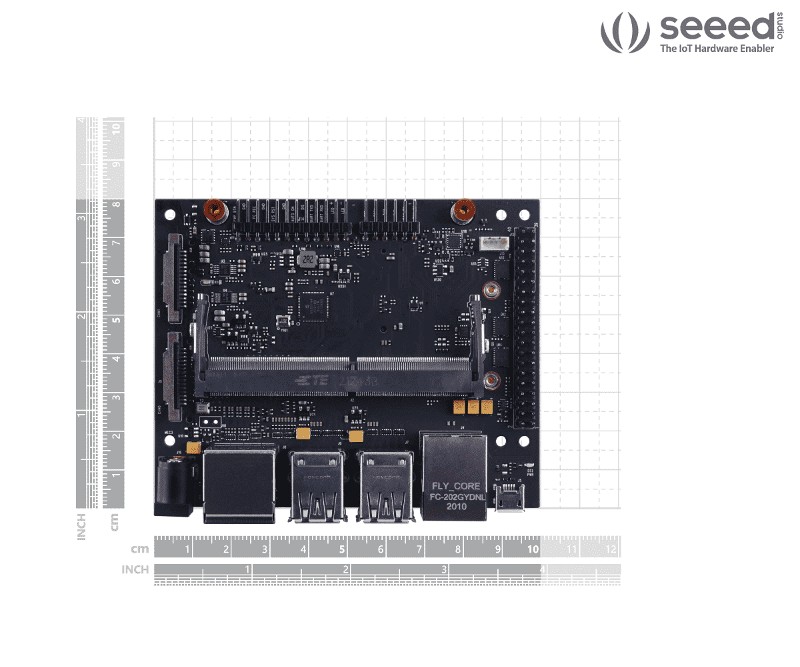 Features:
Exact same size and functional design as Nvidia's official carrier board
Higher performance stability consists of 4 USB ports and HDMI+DP ports
Data can be saved for 24 hours after the power is cut off if batteries are increased
High versatility, suitable for complicated AI graphical applications
Compatible with  NVIDIA® Jetson™ Nano/NX/TX2 NX SOM
I/O ports:
Display Port:
USB

4 x USB 3.0 Type-A Connector
 
1 x USB Micro B, RA Female
NVIDIA Gigabit Ethernet

1 x RJ45 Gigabit Ethernet Connector (10/100/1000)

DC Power

1 x DC Input Power TE Connector

FAN Connect
M.2 KEY E

1 x M.2 Key E Connectivity Slot (75-pin)

M.2 KEY M

1 x M.2 Key M Slot (75-pin)  NVME 2280

CSI Camera Connect

2 x CSI Camera (15 pos, 1mm pitch, MIPI CSI-2 )

Multifunctional port
NVIDIA Jetson Nano/NX/TX2 NX connector

1 x Jetson SODIMM connector, 260-pin

CAN

1 x CAN Bus Header (1x4, 2.54mm pitch, RA)

Button Header

1 x Button Header (1x12, 2.54mm pitch, RA)

RTC

1 x RTC Back-up Coin Cell Socket (CR1225)
Note: 
When using Jetson Nano, the M.2 E KEY does not work, but M.2 KEY M works.
The 3V RTC battery is NOT included in the packing list.
Applications
Industrial Automation
Robotics
Computer Vision
Drone
Automated Optical Inspection
Packing list:
1 x A206 Carrier Board
1 x Power Adapter 90W 19V
Note: Power cable is not included. However, we are giving the power cable as a FREE GIFT. 
Resources: