Now, you can monitor and control your 3D Printer from your smartphone any place with this Smart kit. It comes with Creality WiFi Box, USB Webcam, and an 8GB microSD card. And it is plug and use with 3D Printer from Creality which include:
Note: For the time being, we notice this WiFi Box is ONLY compatible with the default controller board and default firmware from Creality.
Check out how to set up this amazing small little WiFi Cloud Box: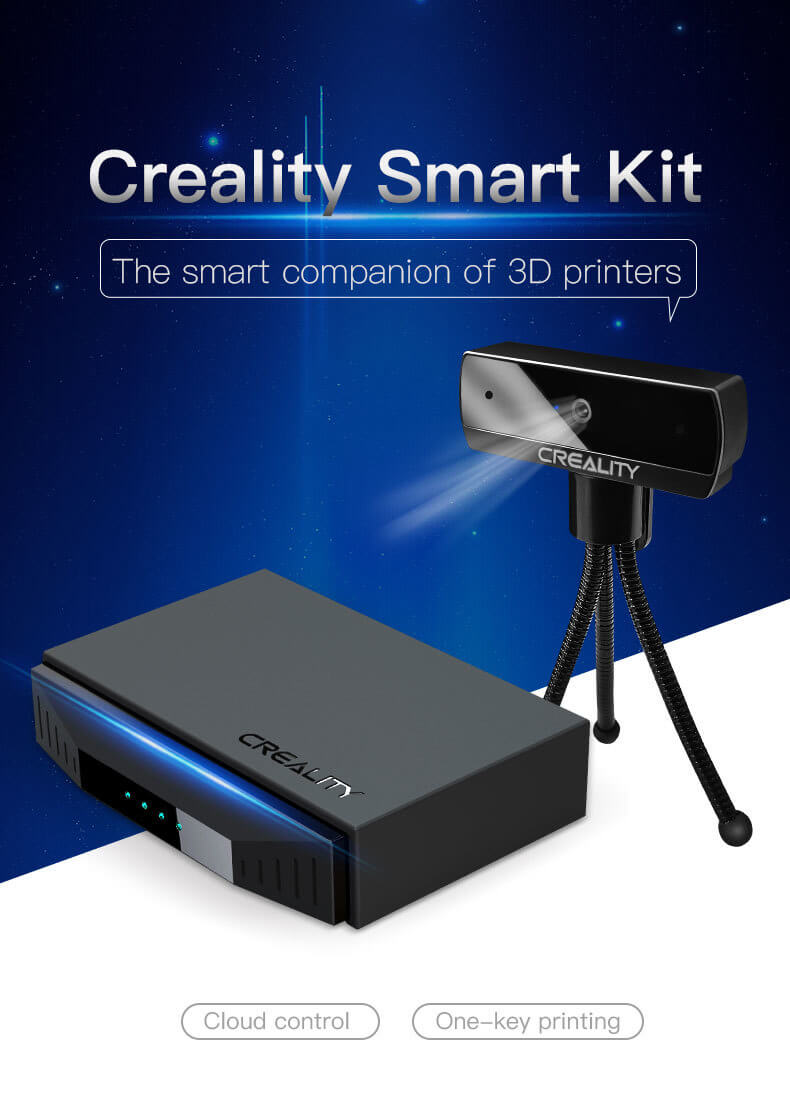 This WiFi Cloud Box is able to connect to all 3D printers from Creality, and offer remote control from your smartphone, get all the 3D parts from Creality's Cloud, monitor the status of printing, etc. With a compact WiFi little box :)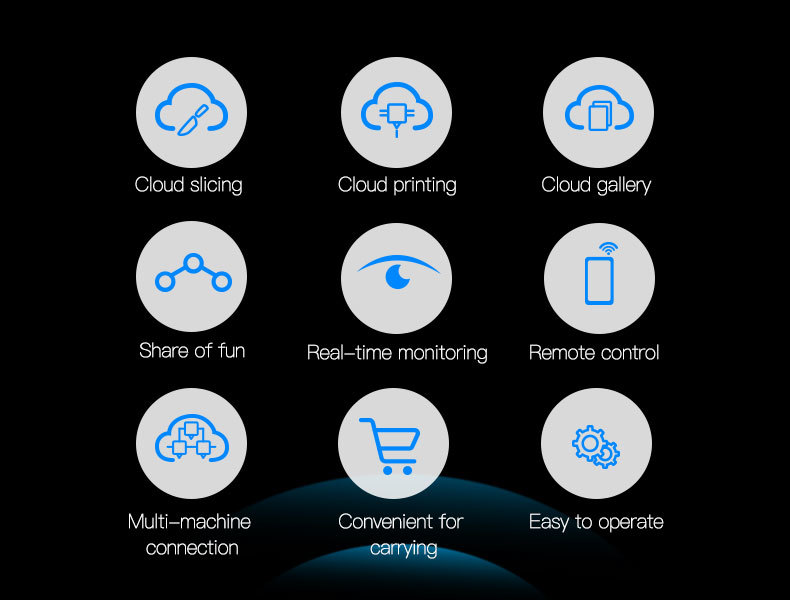 As it connects to the Internet via WiFi and I believe everyone that uses 3D Printer has WiFi, the setup is quite straightforward.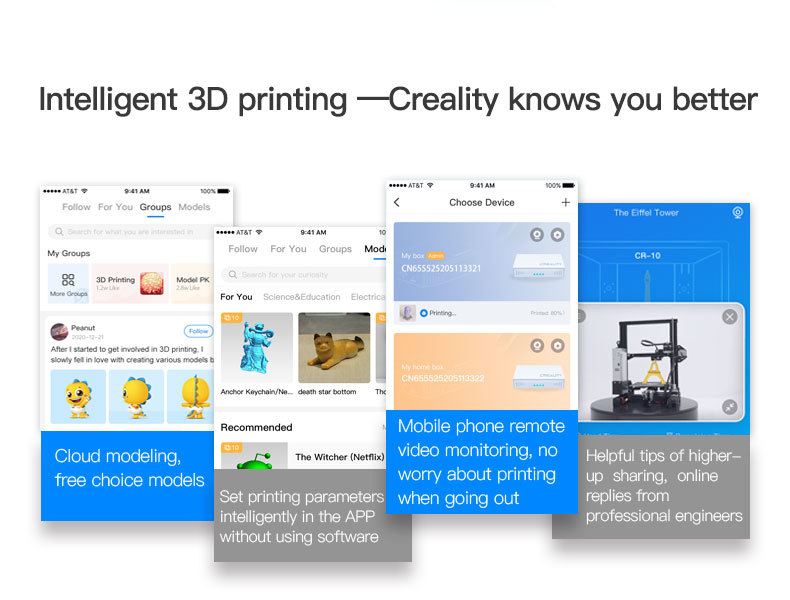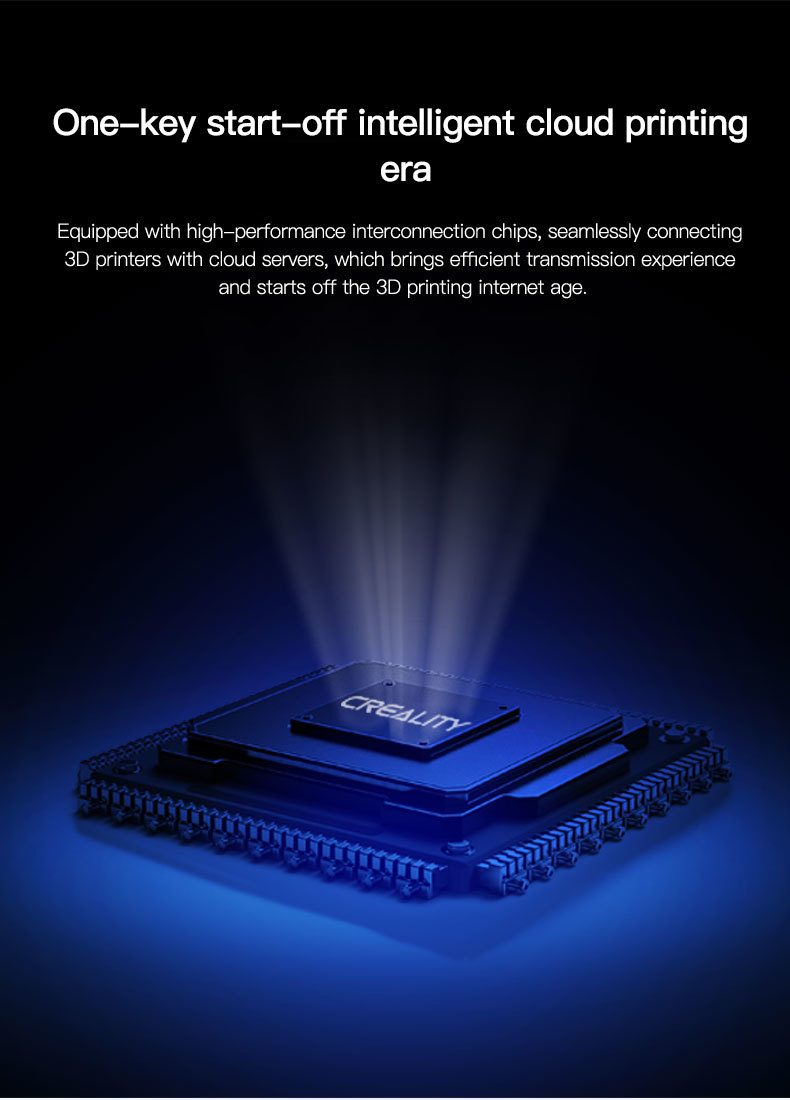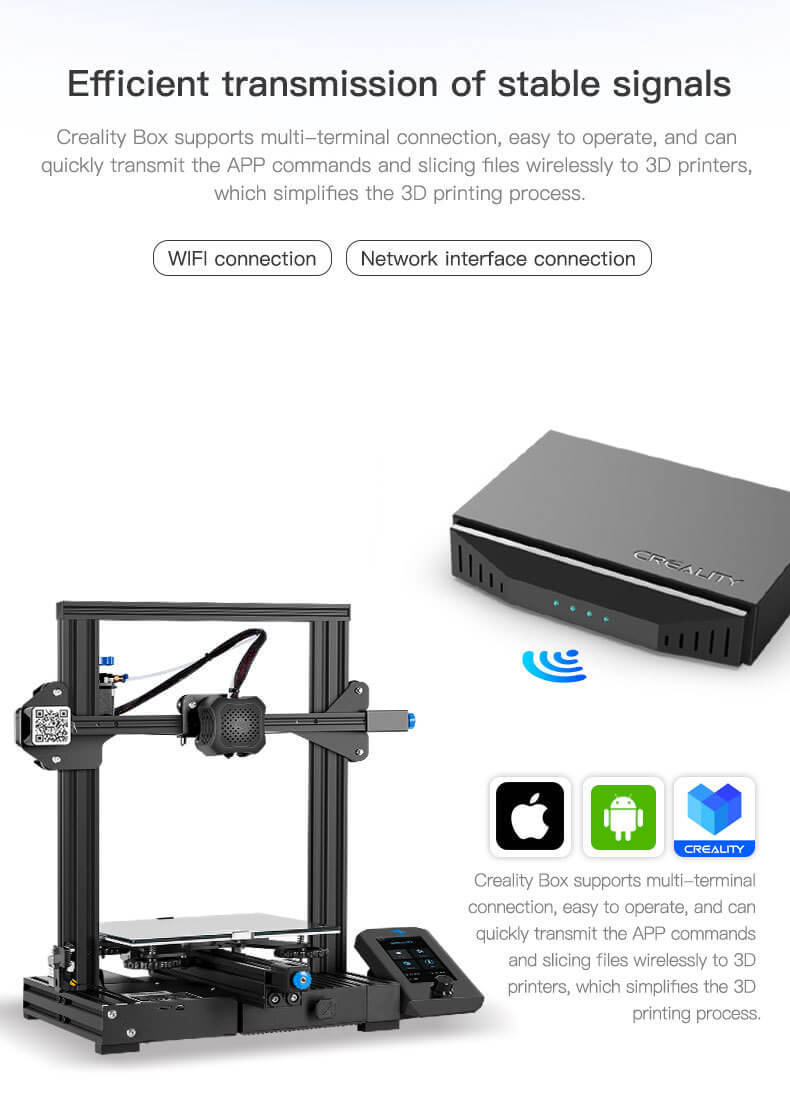 Of course, you will need to install the apps on your smartphone to utilize the cloud and the remote control and monitor of your 3D printer.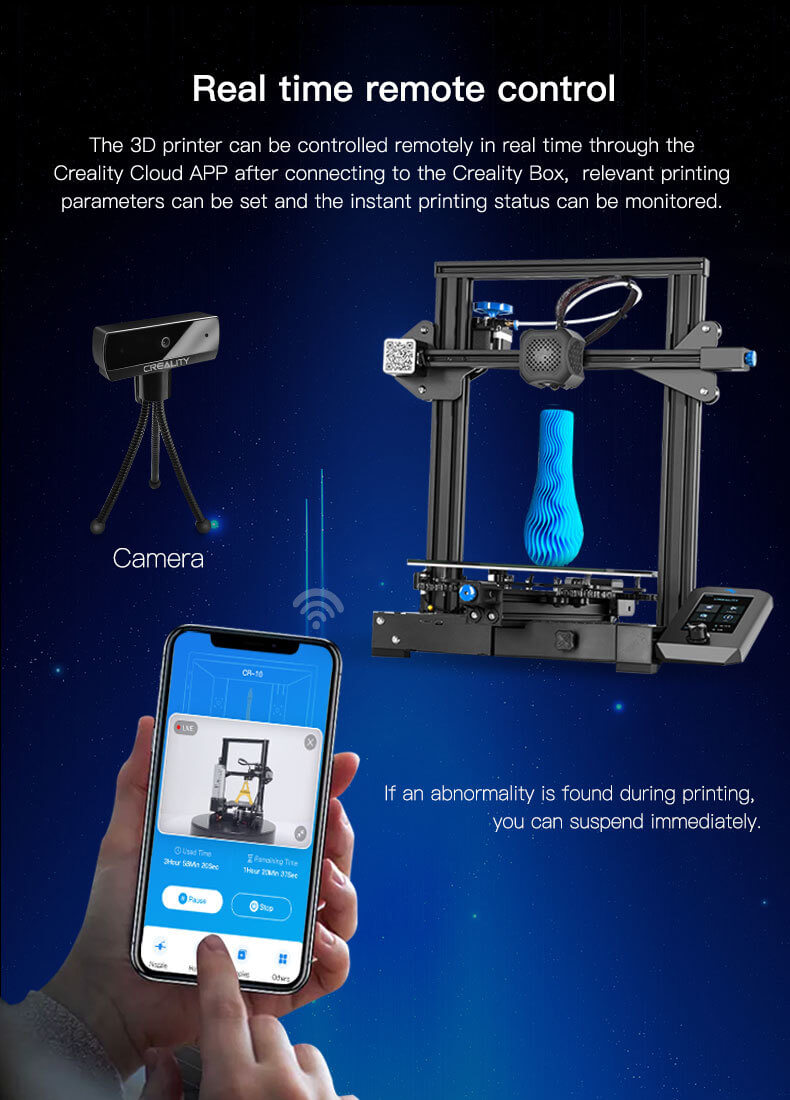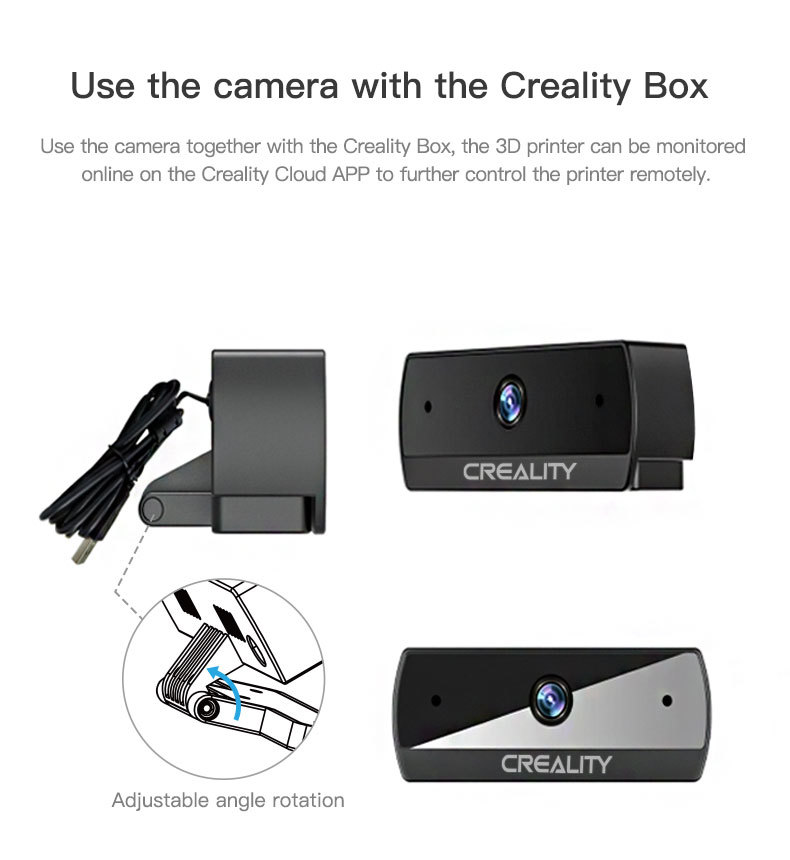 As it is connected to Creality Cloud, there are countless 3D printing model files in the App, covering art, culture, education, industry, medical, and many more. And you can always instruct the printer to start the printing of these models any time, any place from your smartphone.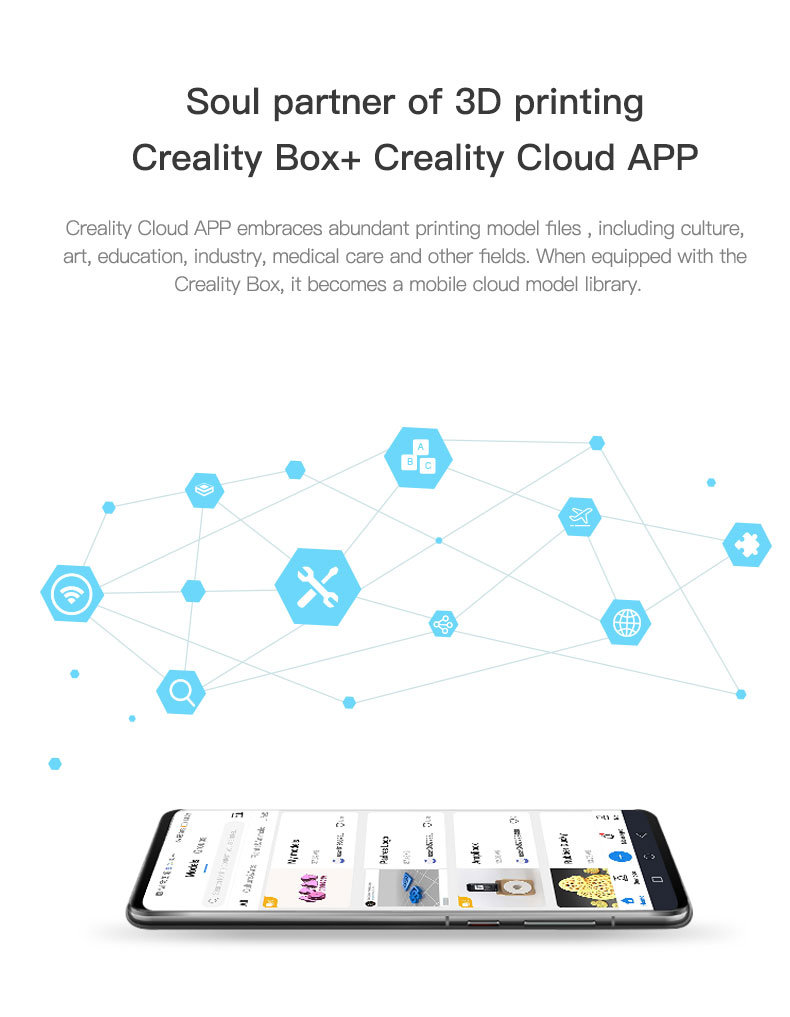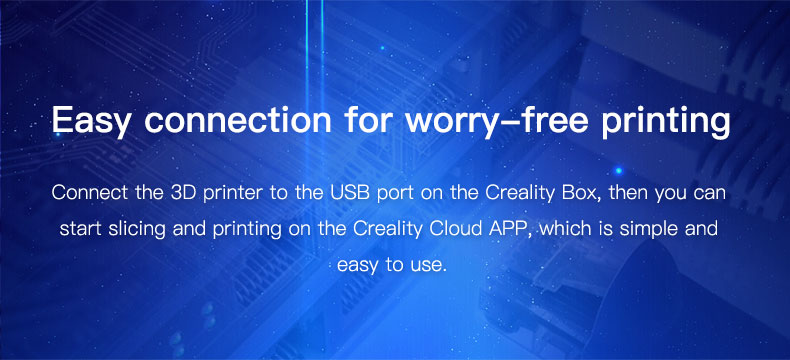 If you look at the dimension of the WiFi box, it is quite compact for this powerful WiFi and USB Host box! It is just 9cm x 6.4cm x 2cm. You can easily hide it behind your 3D-printed part.
Well, don't be fooled by the small size. This WiFi box comes with WiFi IEEE 802.11 b/g/n, 2.4GHz band, embedded with DSP processor of MTK MT7688AN, two USB 2.0 Host port: One USB can be used to control the 3D Printer, another USB can be connected to USB webcam (Not available yet) for a remote live view of your 3D Printing process.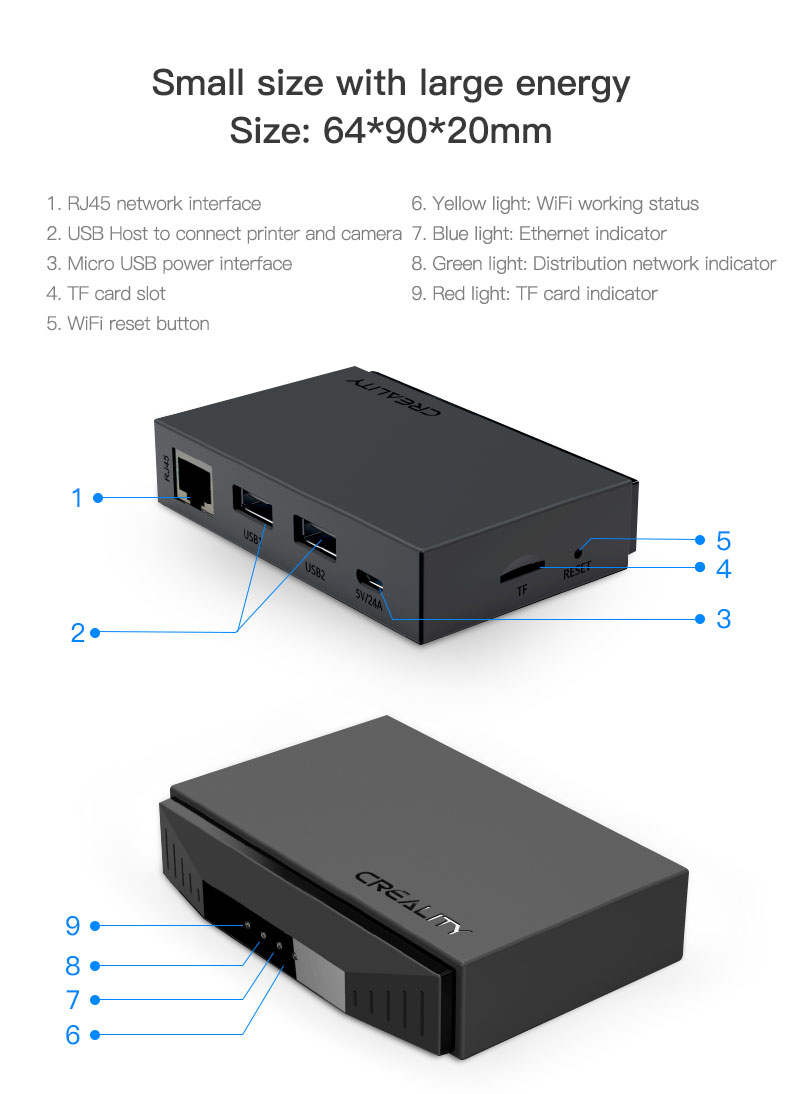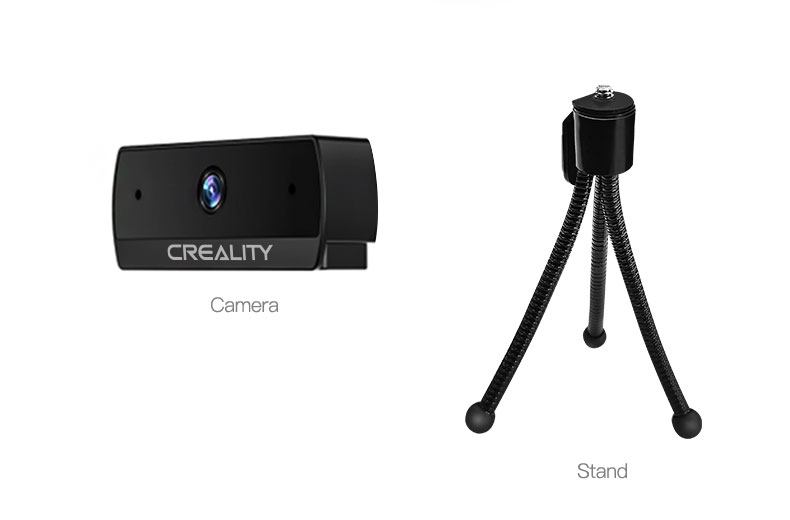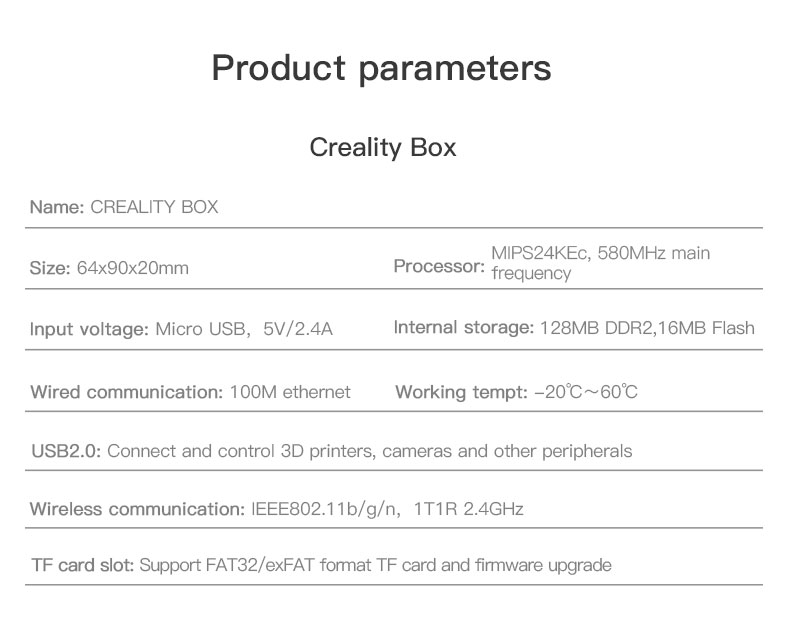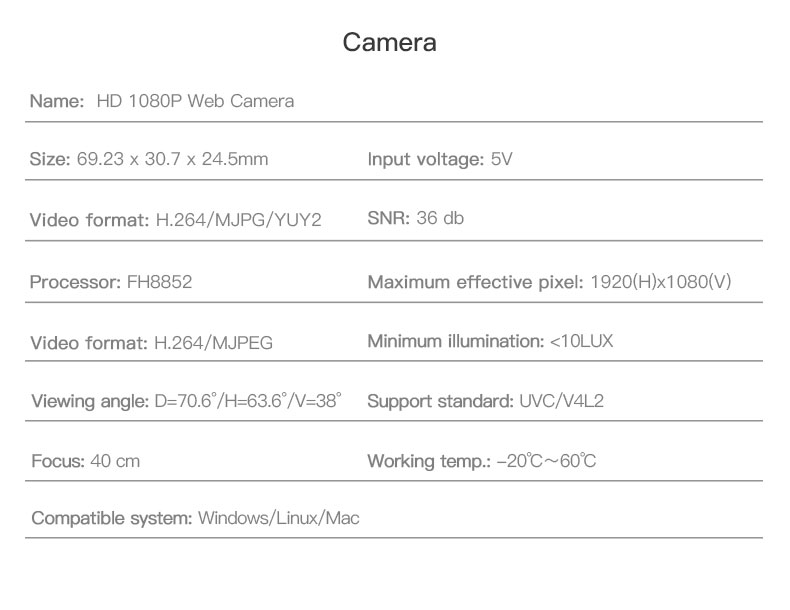 Creality WiFi Box:
RJ45 Ethernet Port for wired Internet access
2 x USB Host USB Type-A port: Connect to 3D Printer and the USB webcam (only for Creality USB webcam)
USB micro-B Receptor for Power Input, 5V, 2.4A
TF/MicroSD card slot
WiFi Reset Button
D1 Light: WiFi working condition (Yellow)
D Light: Ethernet condition (Blue)
D3 Light: Configure Network Condition (Green)
D4 Light: TF/MicroSD Card  Indicator (Red)
Note:
Only compatible with Android & iOS system.
The TF/MicroSD card must be inserted before use.
Features:
Perfect kit for remote control and monitor of Creality 3D Printer
Comes with a WiFi box, Webcam, Camera Stand, and an 8GB microSD card
Webcam resolution: HD 1080P
Easy to setup
Works with Smartphone apps
WiFi: IEEE 802.b/g/n, 2.4GHz band
Compatible with most FDM 3D Printers
Control Parameters such as Nozzle temperature, sending files for printing, start printing, pause, restart, etc.
Power Input: 5V, 2.4A, USB microB Receptor
Two USB Host (Type-A), connect to 3D Printer USB port for remote control, or USB webcam (included) for remote monitoring
DSP Processor on WiFi Box: MTK MT7688AN
TF/MicroSD Card: SD-XC(Class-10), support FAT32 file format, SD card firmware upgradeable
Comes with RJ45 for Ethernet Internet connection
Apps: Creality Cloud App, compatible with Android and iOS
Getting Started:
Insert the 8GB microSD Card included into the card socket.
Connect the USB webcam included to USB port (either USB 1 or 2)
Connect the 3D printer to WiFi Box's another USB port using the USB MicroB cable, or you can use the USB MicroB to Mini B adapter.
Power up the WiFi Cloud Box:

Using the included USB microB cable to a phone charger or power adapter with USB A socket, but make sure the adapter is capable of delivering 5V at 2.4A
Or get the USB microB power adapter, UK Plug, 5V, 2.5A

Download and Install "Creality Cloud" into your smartphone, either Android or iOS.
Open Creality Cloud App, click "Device" and "+". Scan the QR code on the bottom of the WiFi Cloud box. Name it, and configure the network according to the Creality Cloud cue phrases.
Once the WiFi Cloud Box is connected to the Internet and to Creality Cloud, it should appear on the Creality Cloud App, then you can select it and enjoy it.

Packing List:
1 x Creality WiFi Cloud Box
1 x Creality USB Webcam
1 x Camera standard
2 x USB MicroB Cable
1 x USB MicroB to Mini B adapter (for the 8-bit board)
1 x 8GB MicroSD Card (Upgraded)
1 x Quick Start Guide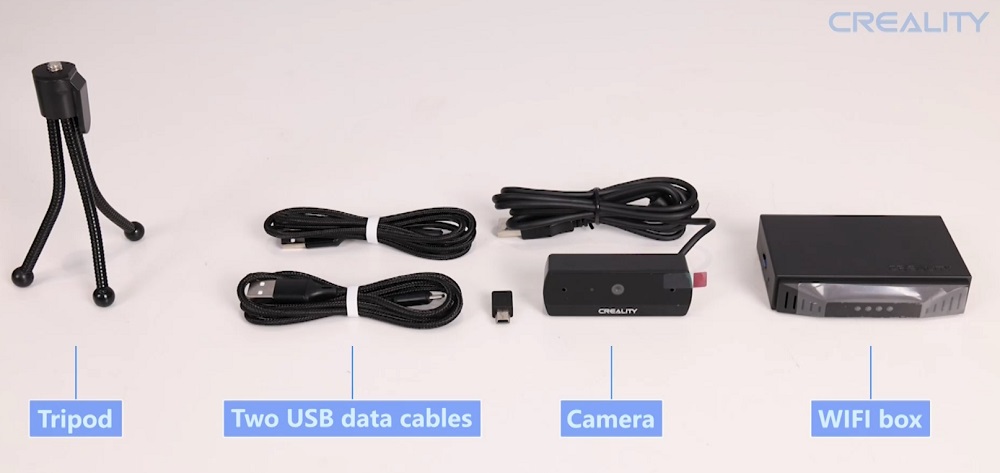 Resources: