Raspberry Pi 4 Model B 2GB and 32GB microSD with RPi OS
Note: This bundle includes a Raspberry Pi 4 Model B 2GB board and a 32GB MakerDisk microSD card preloaded with Raspberry Pi OS. Please DO NOT format it if you intend to use it with the Raspberry Pi board.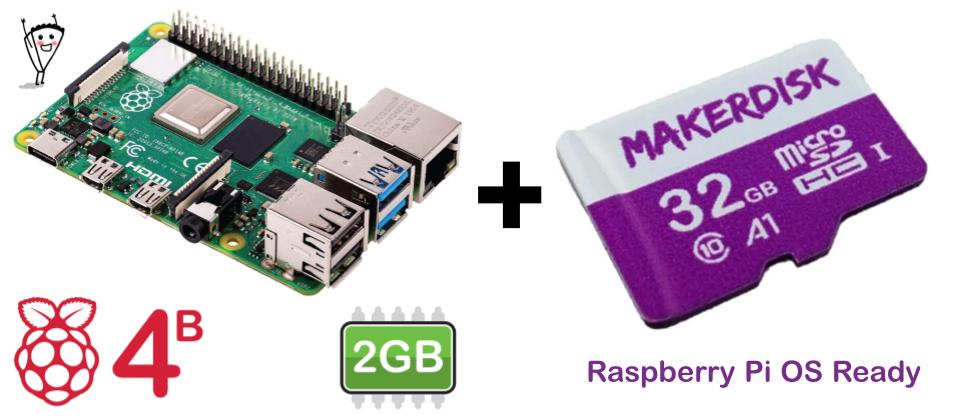 ---
Most Powerful and Fastest Raspberry Pi Ever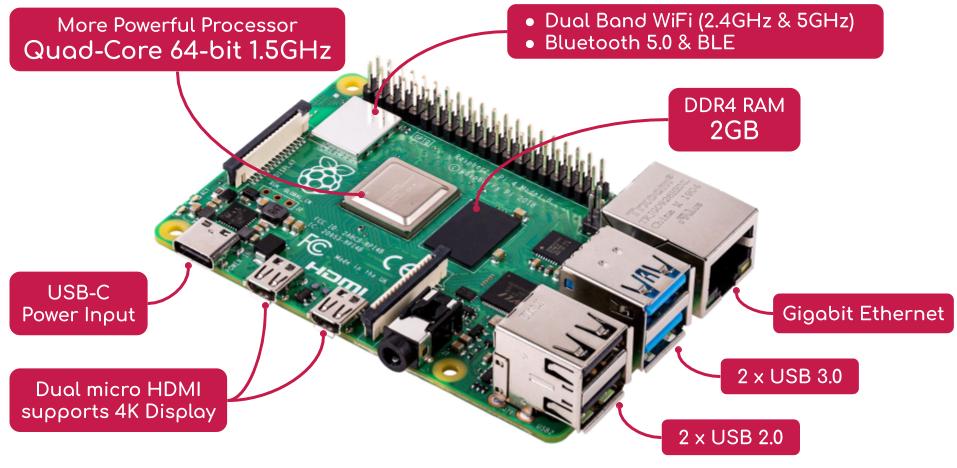 Raspberry Pi 4 Model B, with 2GB RAM. It is sufficient for most digital-making applications.
Class 10, A1, MakerDisk MicroSD Ready with Raspberry Pi OS
A 32GB, Class 10, U1, A1 grade MakerDisk microSD card ready with Raspberry Pi OS is included.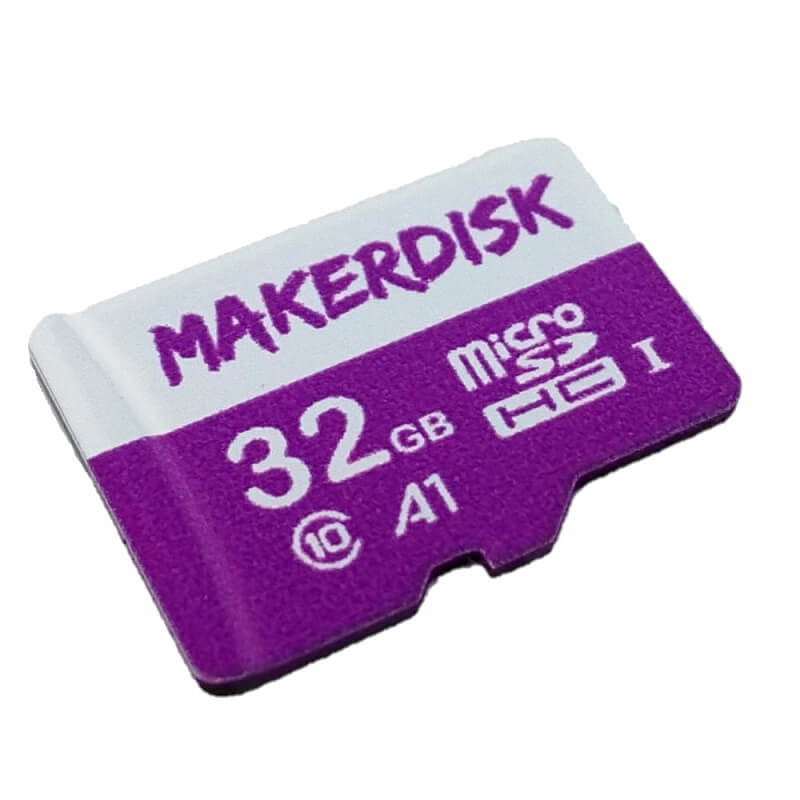 We are confident to recommend this MakerDisk uSD card as the diagnosis results exceed the requirement needed for Class A1 and also the specifications by the Raspberry Pi Foundation.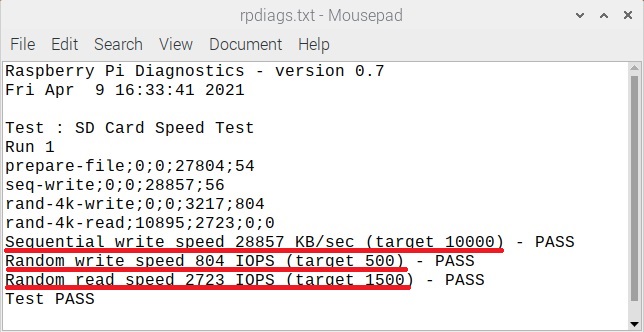 Many Raspberry Pi users have a common doubt: What type of microSD card is best for Raspberry Pi? Well, we have been asking the same question since day 1:) Now, let's trust the Raspberry Pi team which is the designer and producer of Raspberry Pi. They recommend Class A1 because of the characteristic of Raspberry Pi accessing the memory on the microSD card. The random read and write speed is critical. For details of Class A1, please refer to here.
"But more and more, memory cards are being used to extend the memory of devices that run apps. Devices like smartphones and mobile gaming consoles. The apps that run on these devices interact with memory space differently. Rather than a stream of sequential data, they want to write a lot of small chunks of data wherever there's space available. That's known as random read/write (compared to sequential read/write that's important for video)." which Raspberry Pi falls into, the operating system will need to read/write data from/to the microSD card in random access.
This MakerDisk microSD card comes straight from the factory and it is pre-loaded with Raspberry Pi OS, so it can boot up on all Raspberry Pi mainboards right out of the box. Please DO NOT format it. If you want to load other Operating Systems, we would recommend using the Raspberry Pi Imager and choose the preferred Operating System.
Note: In case you need a USB microSD card reader/writer, get it from here.
Features:
Raspberry Pi 4 Model B, 2GB Board:

Broadcom BCM2711, 64-bit ARM Cortex-A72 (ARMv8), Quad-core, 28nm Processor SoC running @ 1.5GHz, with a metal body for better heat dissipation.
LPDDR4 2GB SDRAM
2 x USB3.0 Port + 2 x USB2.0 Port
Expanded 40-pin GPIO Header
Video/Audio Out:

4-pole 3.5mm connector
2 x micro HDMI port, support 4Kp60 video, dual display
Raw LCD (DSI)

Image/Camera input: CSI port
Storage: MicroSD
True Gigabit Ethernet, >900 Mbps
Power-over-Ethernet (PoE) support (requires separate PoE HAT)
2.4GHz and 5GHz IEEE 802.11.b/g/n/ac wireless LAN, Bluetooth 5.0 and BLE (Bluetooth Low Energy)
Low-Level Peripherals:

27 x GPIO
UART
I2C bus
SPI bus with two chip selects
+3.3V
+5V
Ground

Power Requirement, 5V/3.0A via USB type C connector.
Supports Raspbian, and check 3rd party Operating System here.
Dimensions: 85mm x 56mm x 17mm
MakerDisk 32GB MicroSD Card:

A microSD card from Makers to Makers!
Brand: MakerDisk
Capacity/Size: 32GB

1GB = 1,000,000,000 bytes.
Actual usable capacity may be less, depending on the format. From Raspberry Pi OS, it is ~ 28.2GB.
Check the capacity calculation from Wiki.

Pre-loaded with Raspberry Pi OS, it is ready to boot up on any Raspberry Pi board right out of the box!
Class 10, A1, U1 microSD
The test result is better than the A1 rate and Raspberry Pi Standards:

Sequential Write: > 27MB/S (A1 Standard 10MB/S, Raspberry Pi Standard 12MB/S)
Random IOPS - Write: > 800 IOPS (A1 standard 500 IOPS, Raspberry Pi Standard 500 IOPS)
Random IOPS - Read: > 2700 IOPS (A1 standard 1500 IOPS, Raspberry Pi Standard 2000 IOPS)
In any case, you can always reload the image/Operating System into this microSD card using a USB microSD card Reader/Writer, we recommend using the official imager: Raspberry Pi Imager. Please check this video out on how to use the Advance features:
Packing List:
1 x Raspberry Pi 4 Model B, 2GB board
1 x 32GB MakerDisk Class 10 A1 MicroSD with Raspberry Pi OS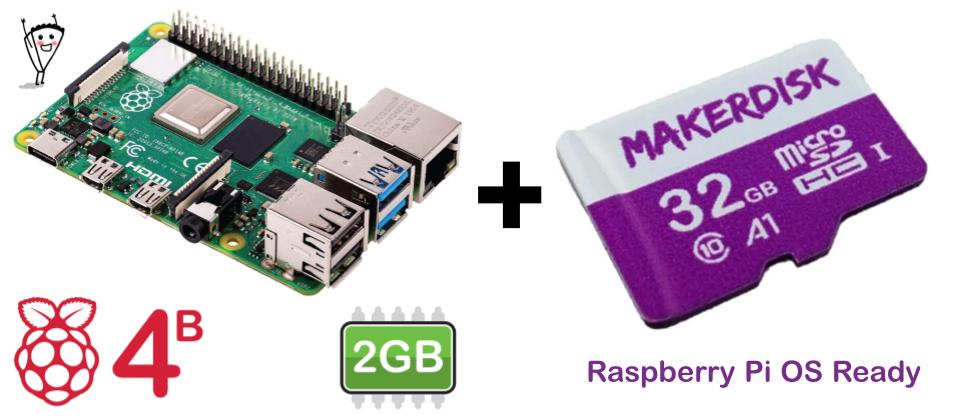 Resources: