Description
Note:
This is Raspberry Pi Zero WH (Wireless with Header). If you are looking for other Raspberry Pi Zero boards, here are Raspberry Pi Zero V1.3 (Without Wireless) and Raspberry Pi Zero W (Wireless -WiFi and Bluetooth).
Due to the worldwide IC shortage, Raspberry Pi Zero WH is limited to 1 unit per person. Yes! ONE piece per person. Do check the kits if you need more.
We recommend getting the Basic Kit with all the essential parts to get started. You save more if you get the kit.
Since we carry Raspberry Pi Zero W (Wireless) in 2017, it has been a blast. Many creative and innovative projects have been created! But soldering the 40-pin headers onto Zero W is not everyone's favorite task, especially beginners. Some might not have the right tools to do it.
And here you are the Raspberry Pi Zero WH, pre-soldered with 2x20 header pins at the factory directly from Raspberry Pi Foundation. This will helps in hardware prototyping.
This is a super low-cost single-board computer. Hey! With just under RM100, you get a working computer, it is cheaper than any Arduino controller board with a 32-bit processor. Even better, this WH version not only comes with WiFi and Bluetooth ready, but the 40-pin GPIO is also pre-soldered.
The new Raspberry Pi Zero WH offers all the benefits of the Pi Zero v1.3, but with one big difference – built-in Wireless (WiFi and Bluetooth)! More specifically, this giant upgrade is the addition of a BCM43143 WiFi chip BUILT-IN to your Raspberry Pi Zero – just like the Pi 3! No more pesky WiFi adapters - this Pi is WiFi ready. There's also Bluetooth Low Energy (BLE) on board making the Pi an excellent IoT solution.
Raspberry Pi Zero WH is a super-compact, hackable, and ultra-low-cost computer. This is the version with built-in WiFi, Bluetooth, and pre-soldered header pins.
Note: There is no cloned version of the Raspberry Pi board in the market. This is the original Raspberry Pi Zero WH from Raspberrypi.org, do check the reseller list under the Raspberry Pi Zero W page.
With BCM 2835 (32-bit ARM-based processor) SoC running at 1GHz, the raspberry pi zero is faster than Raspberry Pi 1. With mini-HDMI, micro-B OTG USB, and the same 40-pin GPIO it still has great connectivity although you'll probably need some accessories to help you hook it up to your existing devices.
Yes, it is really attractive, but do bear in mind that you need additional accessories to get it running :) At least a USB adapter and microSD card are a must. So we recommend the starter kit with:
OK, for those that bought Raspberry Pi Zero WH and misses the accessories to get it running, here are our recommended stuff:
A good quality 5V power supply - we suggest 5V 2.5A with cable - this will allow you to power the Zero W from a wall adapter. It is not suggested to power the Zero from a computer USB port as the voltage often sags and can cause SD card corruption!
16GB microSD Card with Operating System - This 16GB is preloaded with NOOBS (New Out Of Box Software) and it comes all the way from the UK, Raspberry Pi Foundation. Of course, you can also get a microSD card from a computer store, load it with the preferred operating system and boot it up. Make sure you have the latest version!
Mini HDMI to HDMI Adapter, or Mini HDMI to standard HDMI cable - Will let you convert the little port on the Zero W to a standard-sized HDMI jack. You can get 1080P HDMI video + audio out of this little computer!
USB OTG Cable - This lets you plug in a normal USB device such as WiFi dongle, USB hub, keyboard, mouse, etc into the Zero.
USB Console cable (UC00A or UC00C) - If you want to go headless (without an LCD monitor and other accessories) which you're not going to stick an HDMI monitor on there, then this is essential, you connect the wires to the GPIO pins and log in over a serial console. It's the easiest & fastest way to get on your Pi.
And if you want a better computing experience with this tiny computer, we recommend getting:
Note: Some boards are made in the UK, some in China. WE DO NOT KNOW IN ADVANCE WHICH ONES YOU MAY RECEIVE!
Features
Raspberry Pi Zero WH Features and Specs:
Processor: BCM 2835 SOC
Clock speed: 1GHz
RAM: 512MB
Built-in Wireless: BCM43143, WiFi + Bluetooth 4.1 + BLE (Bluetooth Low Energy), same as Raspberry Pi 3.
Memory: micro-SD
Display and Audio: mini-HDMI
USB Port: 1 x Micro-B USB for data (with power too)
Power input: 1 x Micro-B USB for power (no data)
Camera interface: CSI camera connector (needs adaptor cable, 0.5mm pitch to pitch CSI)
GPIO: Pre-soldered 40-pin GPIO connector, compatible with Raspberry Pi Zero v1.3 and Raspberry Pi 3.
Compatibility of GPIO: Compatible with existing HAT addons
Dimensions: 65mm x 30mm x 5mm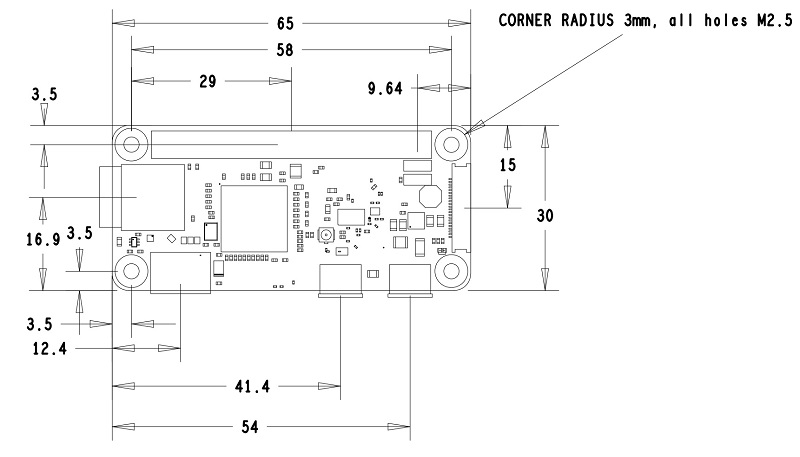 Packing List
1 x Raspberry Pi Zero WH board
Reviews (295)
Total Reviews (295)
5

98.31%

4

0.68%

3

0.68%

2

0%

1

0.34%