Kemaskini pada 3 Februari 2018
INTRODUCTION
Zaman sekarang semakin ramai yang berani mencuba untuk membuat projek IoT, dari peringkat sekolah, kolej atau universiti. Ya lah, harga WiFi modul yang dulu (tahun 2013 ke bawah) mencecah RM200, kini boleh dapat dengan harga dibawah RM20. Kehadiran WiFi Serial Transceiver Module (ESP8266) memang betul-betul menjadikan projek IoT lebih berkemampuan untuk dibina dengan risiko yang rendah. Walaupun mudah untuk mendapatkan hardware, masih ramai yang tidak tahu untuk membuat persediaan (setup). Jadi untuk tutorial ini, saya akan kongsikan bagaimana untuk mula membina projek IoT yang murah menggunakan Maker Uno, WiFi Serial Transceiver Module (ESP8266) dan aplikasi Blynk.
Apa yang anda perlu ada atau tahu:
1. Sudah install perisian Arduino IDE.
2. Sudah install driver bagi yang menggunakan Maker Uno/CT Uno.
3. Tahu bagaimana untuk pilih board dan port.
4. Tahu buka contoh kod dan upload.
5. Tahu menggunakan Serial Monitor.
6. Faham sambungan di breadboard.
Jika anda masih baru, anda boleh rujuk pada link ini untuk mula menggunakan Maker Uno - Getting Started with Maker Uno.
HARDWARE PREPARATION
Untuk tutorial persediaan hardware ini, anda perlu ada:
1. Baudrate asal (default) untuk WiFi Serial Transceiver Module (ESP8266) adalah 115200bps. Baudrate ini agak tinggi dan tidak sesuai digunakan pada pin SoftwareSerial di Maker Uno/Arduino Uno. Kenapa guna SoftwareSerial, bukan HardwareSerial? Ya HardwareSerial tiada masalah untuk berkomunikasi dengan kelajuan 115200bps, tetapi library Blynk menggunakan HardwareSerial (pin 0 dan 1) untuk memaparkan status di Serial Monitor. Maka untuk kes ini, kita perlu guna SoftwareSerial untuk berkomunikasi dengan modul ESP8266.
Jadi langkah pertama yang anda perlu buat adalah menukarkan baudrate 115200bps ke baudrate yang lebih rendah seperti 9600bps. Sambungkan seperti gambarajah dibawah.
Nota: Sebelum membuat sambungan dibawah, pastikan tiada aktiviti pada pin 0 dan 1. Bagaimana nak tahu? Paling mudah, upload example Blink (File - Examples - 01.Basic - Blink) pada Maker Uno. Oh ya, Blink dan Blynk adalah dua perkara yang berbeza ya, jangan keliru. Blink merujuk kepada contoh kod untuk LED blinking, manakala Blynk adalah aplikasi. :)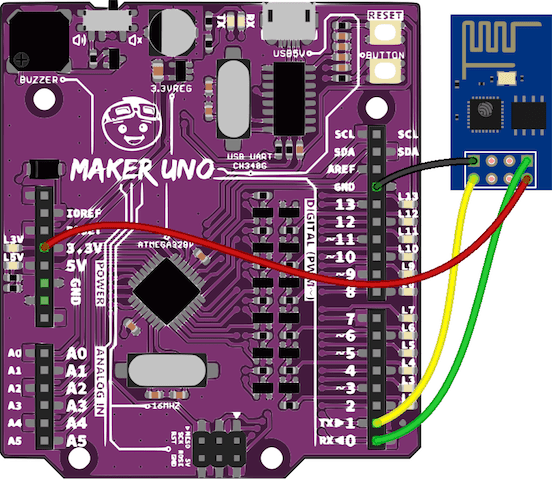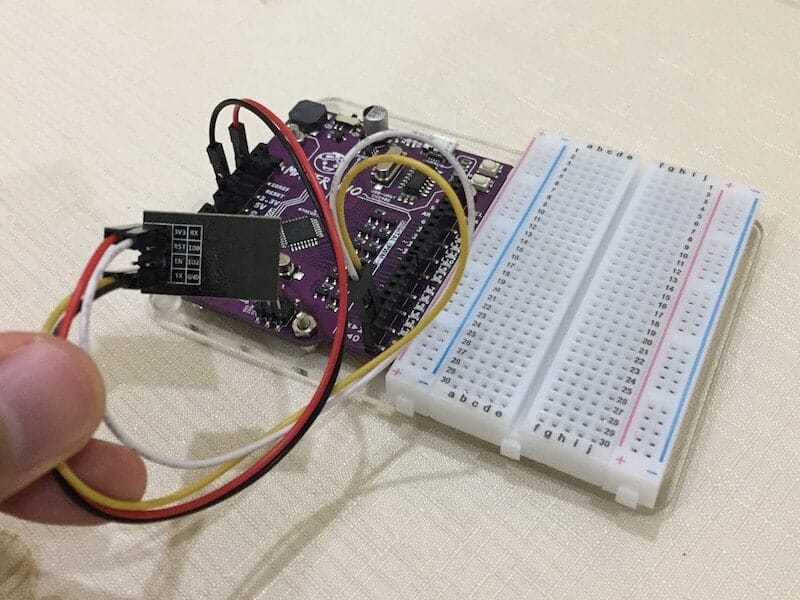 Nota: Sambungan ini dilakukan dengan modul ESP8266 stok Cytron Technologies seperti dibawah. Perhatikan kod ESP-01S dan S Series. Saya tidak pasti untuk versi selain ini.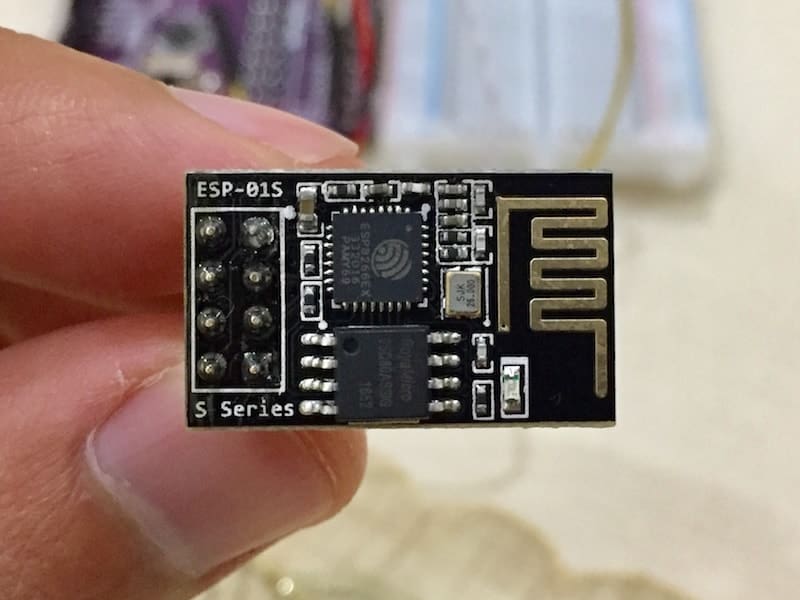 2. Sambungkan kabel USB mikro B dari laptop/PC anda ke Maker Uno.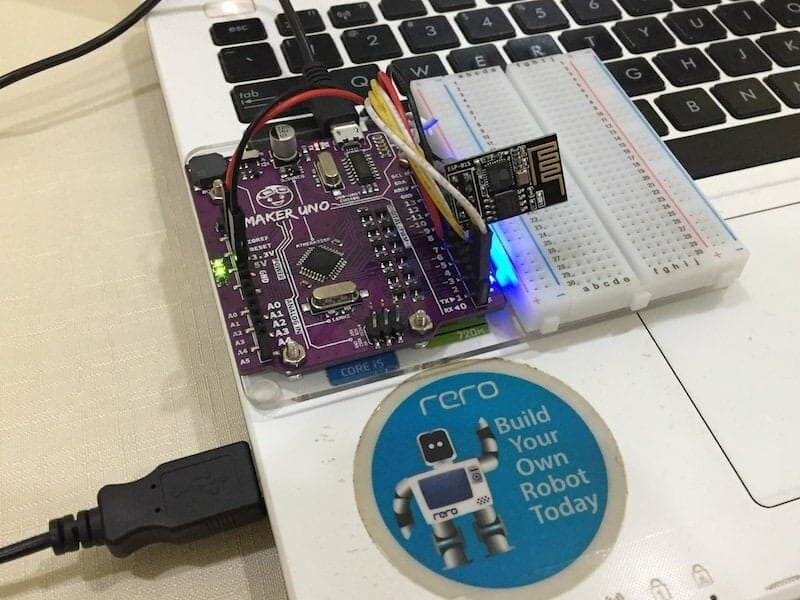 3. Buka software Arduino IDE. Pilih port yang betul dan buka Serial Monitor. Set baudrate ke 115200 dan Both NL and CR.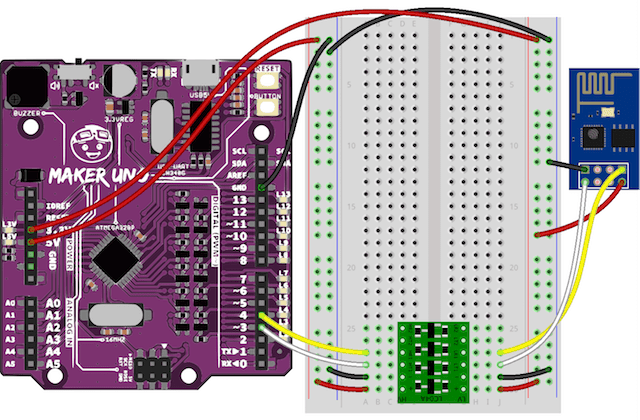 4. Taip AT dan klik Send (atau tekan Enter). Modul ESP8266 akan memberi respon OK. Jika tidak berjaya, periksa semula sambungan dan cuba lagi. Diingatkan semula bahawa sambungan ini dilakukan dengan modul ESP8266 stok Cytron Technologies yang mempunyai kod ESP-01S dan S Series.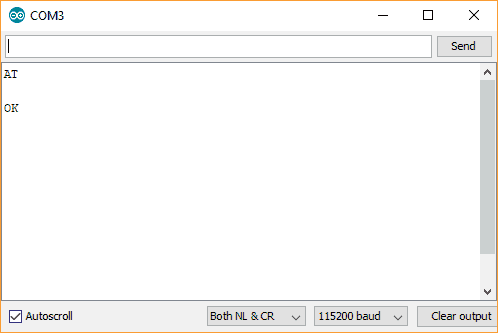 5. Untuk menurunkan baudrate dari 115200bps ke 9600bps, taip AT+UART=9600,8,1,0,0 dan tekan Enter. Modul ESP8266 memberi respon OK, bermaksud baudrate sudah bertukar.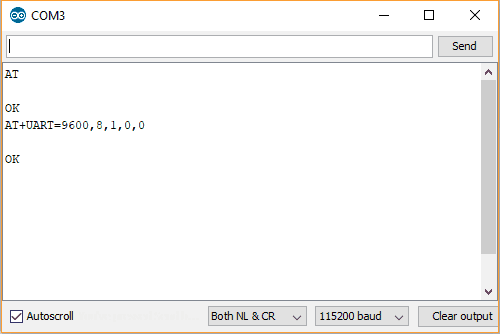 6. Untuk pastikan baudrate sudah bertukar, di Serial Monitor, tukarkan baudrate dari 115200bps ke 9600bps. Taip AT dan tekan Enter. Jika anda dapat respon OK, bermaksud baudrate modul ESP8266 berjaya ditukar.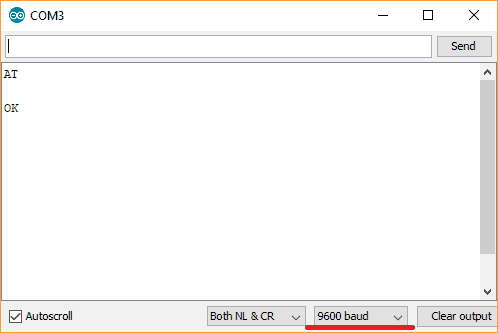 7. Sebaik sahaja baudrate berjaya diturunkan, kerja akan jadi lebih mudah. Tanggalkan sambungan sekarang, dan buat sambungan baru menggunakan Logic Converter 4 Channels yang disambung ke pin SoftwareSerial. Saya menggunakan pin 3 dan 4 untuk SoftwareSerial. Sila rujuk gambar dibawah untuk sambungan.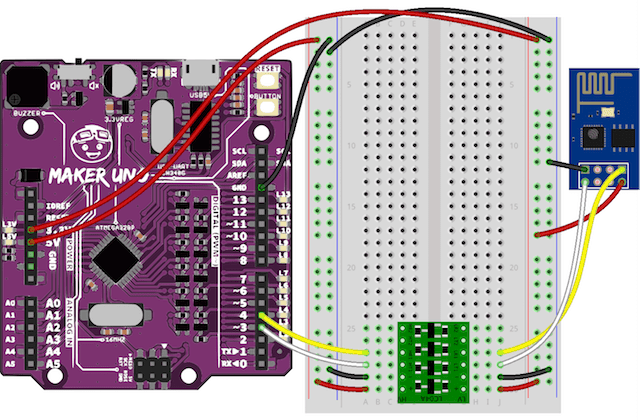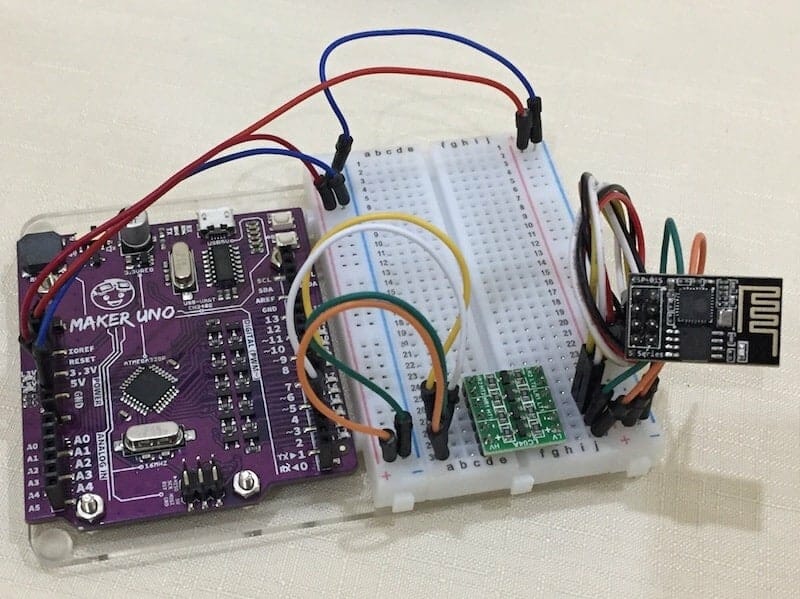 ---
THANK YOU
Baiklah, kita sudah selesai persediaan dibahagian hardware. Untuk bahagian software, saya akan sambung pada post seterusnya. Jadi teruskan setia bersama kami :) Terima kasih.
Nota: Kami jarang periksa komen di post ini. Jika anda mempunyai sebarang pertanyaan, sila ke teknikal forum kami di forum.cytron.io. Terima kasih.