Note: There are different colors of Breadboard mini, please choose the preferred color under the options :)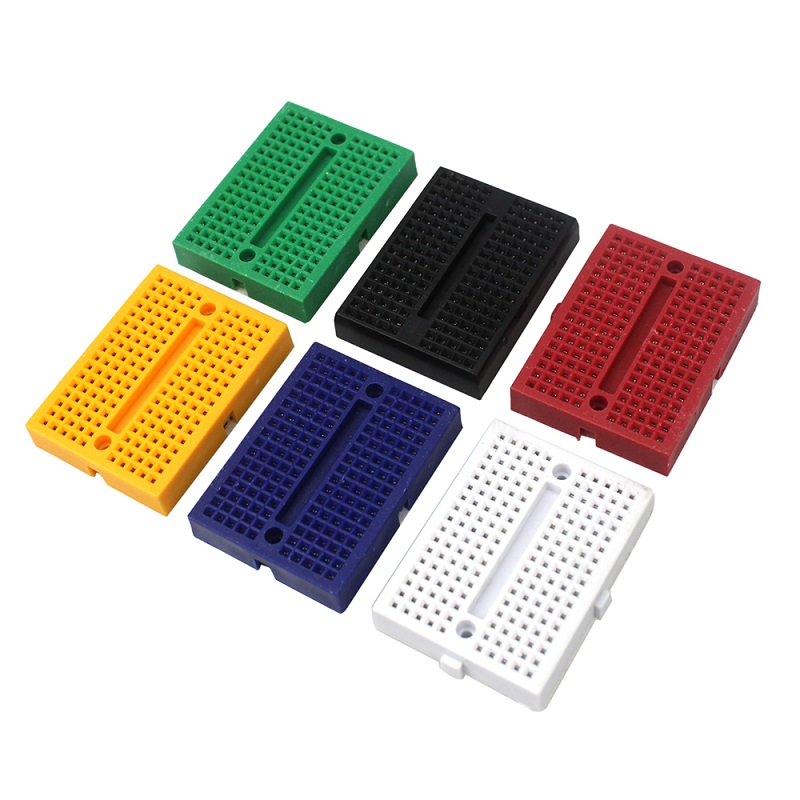 ---
Everyone Starts with Breadboard
A breadboard is ideal for a beginner to learn in building circuitry. The breadboard does not require soldering to make connections. Sometimes, it is called a solderless breadboard. You can just experiment with your circuit design by plug in the components without any soldering. Thus, this breadboard and the components are reusable, you can modify your circuit easily without any hesitation.  With this feature, it is suitable for beginners like students to build the prototype on the breadboard in order to test the circuit design.
This is a miniature breadboard for electronics project prototyping. The size of the breadboard is only 35mm x 42mm, you may consider the medium size breadboard which is more commonly used.
Note: We carry the breadboard jumper wire kit (140 pcs), which comes pre-cut, stripped, and bent at both ends of the wire. There are various length catering for different lengths for breadboard. Check it out here.
Specification:
Mini size breadboard
Color:

Black
Blue
Green
Red
White
Yellow

Can be stack side by side with the same model breadboard to form a bigger breadboard
Total of 170 holes

34 Groups of 5 connected terminals

Reusable for fast build a prototype of an electronic circuit
Each unit will accept transistors, diodes, LEDs, resistors, capacitors, and virtually all types of components
No soldering required
Can modify or revise the circuits easily
Similar prototyping printed circuit boards
An invaluable tool for experimenting with circuit designs whether in the R&D or university lab
Fit for jumper wire of 0.8mm diameter.
Double-sided tape on the bottom side
Standard 2.54mm (0.1") spacing between two holes
Dimension: 35 x 47 x 10mm
Packing List:
1 x Breadboard Mini - 170 holes (35mmx47mm), chosen color.
Total Reviews (80)
5

96.25%

4

3.75%

3

0%

2

0%

1

0%